Artists are helping to raise funds for Hurricane Sandy relief. Small works donated by area artists are on display at the Pawling Trading Company, 27 East Main Street, Pawling, NY.There are original watercolors, oil paintings, photographs, and prints, all of which are available for a $50 donation to a designated charity. Purchasers will make their check out directly to the charity assuring a 100% donation. Suggested charities are United Way Hurricane Sandy Recovery Fund, the Mayor's Fund to Advance NY City and the Red Cross.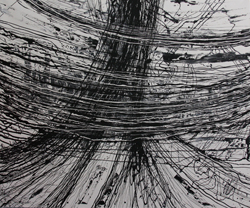 For some larger pieces on display, 10% of the sale price will be donated to charity. Artwork will be on display from November 15th-December 14th. The display will change as additional artist contribute work – so make sure to stop by more than once.
Painting: Storm, John Colantuono, Oil on Canvas, $400, 10% of sale will be donated to storm relief.