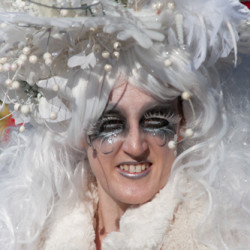 I am celebrating women in the first year a viable woman candidate is running for president and the very long and twisted road it took us as a country to get to this real possibility. Many of the women in the show were photographed at public events and parades in New York City and the Hudson Valley. They are stepping outside of their ordinary lives and breaking loose. Their pleasure in what they are doing is compelling.
For the Gallery 66 NY show I will also draw on a selection of public depictions of women,
mannequins, statues and performers.
The theme of Get this Show on the Road reminds us that the road is seldom straight. The path not always clear. We get sidetracked, don't always reach the destination, but keep moving ahead.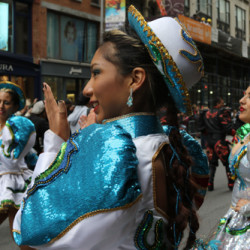 Showing with me is Lisa Cullen's whose abstract work incorporates the idea of paths or roads, some seemingly twisted and convoluted but providing an underlying structure. As a self-taught mixed media artist, Lisa strives to create images that are full of whimsy, yet can provoke deep questions.