For immediate release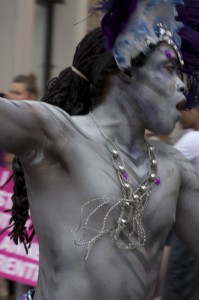 Contact: Lonna Kelly
phone:

email:

website: ArtEastDutchess.com
ArtEast's 6th Annual Open Studio Tour in October
Pawling, NY – Too large to be held on one weekend the ArtEast Open Studio Tour will take place on the weekends of October 13-14 in northeast Dutchess, and October 20-21, in southeast Dutchess. Geographically the largest art event in Dutchess County the studios are found along the 50 mile Route 22 corridor, stretching from Patterson in Putnam County, as far west as Hopewell Junction and Stanfordville and as far east as Wingdale and Sharon, Ct. and north to Millerton.
You can plan a road trip for a day or a full two weekends of regional art along the backroads at the peak of leaf season. There might be a studio in your neighborhood or one to find at the end of a winding dirt road!
For some artists the studio is their whole house with works in progress spread throughout, others have workspace in the garage or a room or two dedicated to the production of art, and still others have freestanding studios. The variety is endless as is the artwork. From traditional to contemporary, watercolor to stone sculpture, the art made by local artists is diverse and vibrant.
Plan your trip this year by visiting www.arteastdutchess.com. Pages for each artist, along with map locations are available. Pick up, from a local store, or print from the website, a full color brochure and you'll be on your way. You'll know you're close when you see the black and yellow signs and arrows directing you toward a studio.
New this year are online videos of some of the artists and several remarkable studios, including a 2000 square foot refurbished barn. Visit four studios and sign the artists' book and you will be put in a drawing to win a piece of art. The odds of winning are high – about half of the artists donate a piece or print to the drawing.
Celebrate the arts and make connections with the artists when you join us for this behind the scenes tour. Learn about their creative process and find out what inspires and fuels their creativity. Artists will have work for sale and many will demonstrate their craft. Studios will be open from 11am to 5 pm Saturday and Sunday. Don't forget to visit the ArtEast Dutchess site on Facebook and preview the artists at www.arteastdutchess.com.
This tour has been supported by a grant from the Northeast Dutchess Fund, a fund of the Berkshire Taconic Community Foundation and by business sponsors including the Magnolia's Cafe (Patterson, NY) and Cascade Wines & Spirits (Amenia, NY).